Urban streets and town centers are no longer the exclusive domain of automobiles. A more balanced approach to street design that considers community, economy and alternative modes of transportation is the future. The idea of complete streets; streets that embrace pedestrians, bicyclists, transit as well as automobiles. A new sensitivity has emerged to public health, environment and sustainability. 
With affordable and attractive decorative asphalt coatings and systems, Alternative Paving Concepts (APC) allows you to create distinctive streetscapes for any project, while leaving memorable impressions. Offering a range of decorative asphalt products, that provides development projects with solutions with visual excellence and high performance.
StreetPrint™ and TrafficPatterns™ are designed with the core values of durability, practicality, safety and sustainability in mind. Our complete street solutions outperform traditional systems. All products are cost-effective, aesthetically pleasing and low-maintenance.
 Durable
Withstands extreme use, wear and weather

Does not disrupt the surface 

Eliminates risk of heaving and settlement 

Smooth pedestrian-friendly surface 

Designed, tested, and proven in all conditions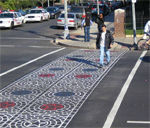 Practical
Products make economic sense

Fast and efficient installation means you invest less up front

Durability means low maintenance which translates into savings in the long term

Repairs can be made with minimal disruption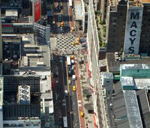 Safe
Offers enhanced traffic calming devices, slows traffic, and save lives

Safe for pedestrians

Smooth and trip-hazard free

High visibility products

Friendly solution for the physically challenged

American with Disabilities Act (ADA) compliant

Slip and skid resistant surfaces

Solutions meet or exceed all government regulated skid resistance requirements
 Sustainable
Non-toxic -100% recyclable

Exceed the most stringent government standards for volatile organic compounds (VOC's)

Satisfy LEED requirements when it comes to SRI and reducing Heat Island Effect